Genius Apartment Bathroom Ideas In Indianapolis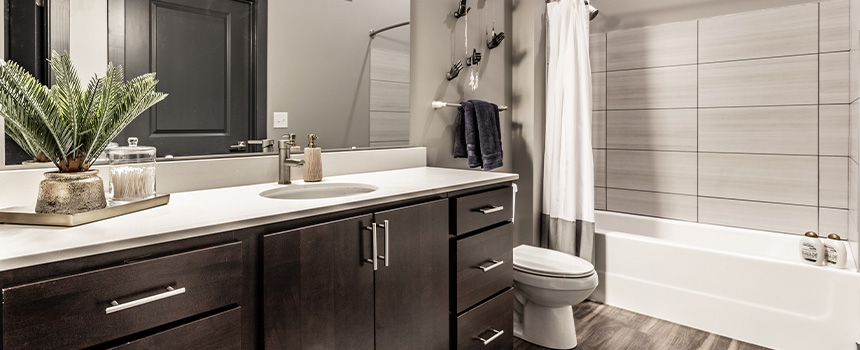 The internet is chalk full of bathroom storage and decor concepts, but some may not fit with your apartment. Many bathroom pieces might take up more room than you possess or be too lasting for an apartment bathroom. This is why we've curated a handful of clever apartment bathroom ideas for Indianapolis Tenants who have the drive to customize their bathroom and enhance their apartment living experience.
Go Vertical To Get More Storage in Your Bathroom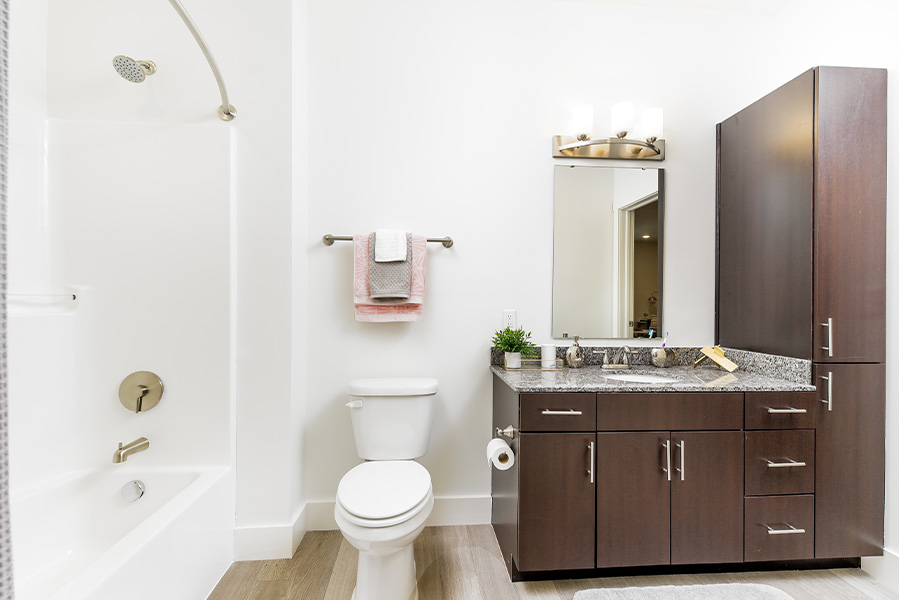 Does any bathroom feature adequate storage? The majority of
apartment floor plans
don't have roomy bathrooms with plenty of built-in cabinets or room to put additional in. In that case, get vertical storage to keep the bathroom neat and tidy.
You can obtain space-saving products like hanging shelving, over-the-door mounted organizers, towel ladders, and shower shelves. Craft your personal vertical bathroom storage by hanging floating shelves where you need them. Or get creative with pretty baskets hung on stick-up wall hangers or even a chained basket hanging from the ceiling.
After you have your vertical storage how you like, keep all your supplies in place with cute but functional containers. For instance, woven fiber baskets, hard plastic jars, and metal cylinders function as stylish decor and practical toiletry storage. Liberally use uniform containers or mesh together textures and materials in a common style for a cohesive look. No matter what you use, your bathroom will appear better with all the items hidden out of sight.
Add Color To Your Bathroom With Accessories
You likely won't have a choice of bathroom paint color, but that does not mean you aren't free to add in some vibrance in other methods. Use bathroom essentials in your preferred color palette to make a dull bathroom sparkle. Start with a colorful shower curtain and move from there. Layer in coordinating towels, bath mat, soap dispenser, toothbrush cup, and more. Your bathroom will look more cohesive, and you are free to take your things with you to use the same style if you ever relocate.
Add Your Own Upgraded Amenities
Your apartment community could have
amazing amenities
, but your bathroom might require a face lift. So you can do it by yourself by getting your own luxuries. Purchase fluffy, soft towels and . Snag a towel warmer. Add a bamboo bath tray, a custom-made candle, and a bath pillow and your Indianapolis apartment bathroom will transform into a spa!
Add Some Whimsy With Removable Wallpaper
Abhor plain walls? Opt for removable wallpaper. This item is apartment-friendly as it comes cleanly off when you move. Use it to make an accent wall or put trim around your bathroom.
If wallpaper sounds like too much, you can also utilize unique removable wall decals. Pick a couple in your color palette and a relaxing motif or quote to lighten up your bathroom wall.
Change The Shower Head With One You Like Better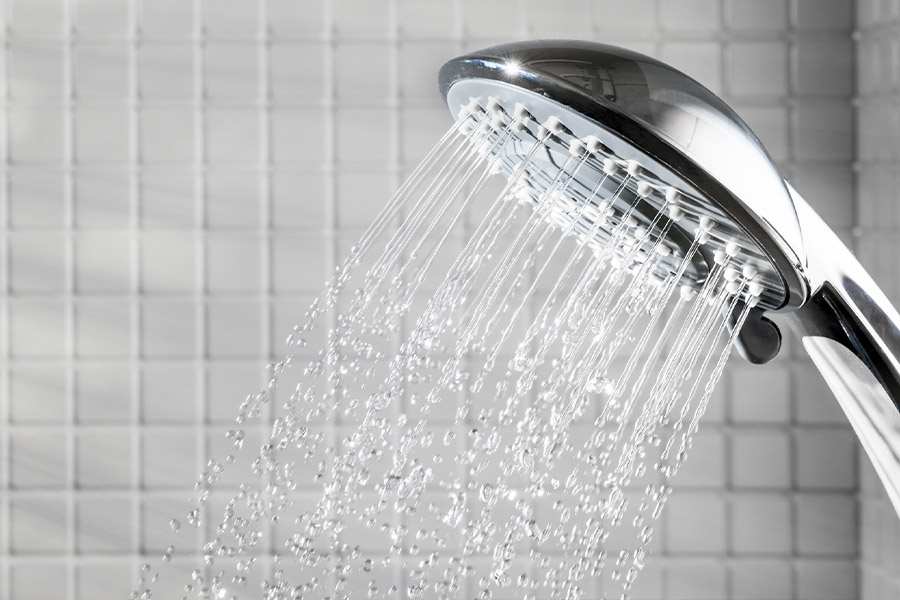 Everybody likes a comforting hot shower. Your showers will become even more indulgent with a nice shower head. If your apartment shower comes with only a simple, non-adjustable shower head, swap it with a fancier model. It's an easy job that won't break the apartment fixture, and you'll love how a new shower head both looks and feels.
Try Your Favorite Indianapolis Apartment Bathroom Ideas In Your Apartment At The Waverley Apartments
Before you can makeover your apartment bathroom, you need an apartment! The Waverley has just the thing you want. Our roomy apartment floor plans and luxury amenities will ensure you treasure your bathroom and all of the rooms of your new home. Call 317-800-7017 or get a tour to discover more about moving into our gorgeous community.