Apartment Dining Room Ideas In Indianapolis

Your apartment dining room offers more than just a basic place to eat before running off to your busy life. It's where you make memories with people you care about, having peaceful conversation or a entertaining night of board games. There's a good chance you'll make good use of it, so it makes sense to furnish the room in a manner you and others will enjoy.
If you're getting ready to relocate into a new community, use these apartment dining room ideas in Indianapolis to create an appealing, functional space.
Inject A Bit Of Pizzazz Into Your Space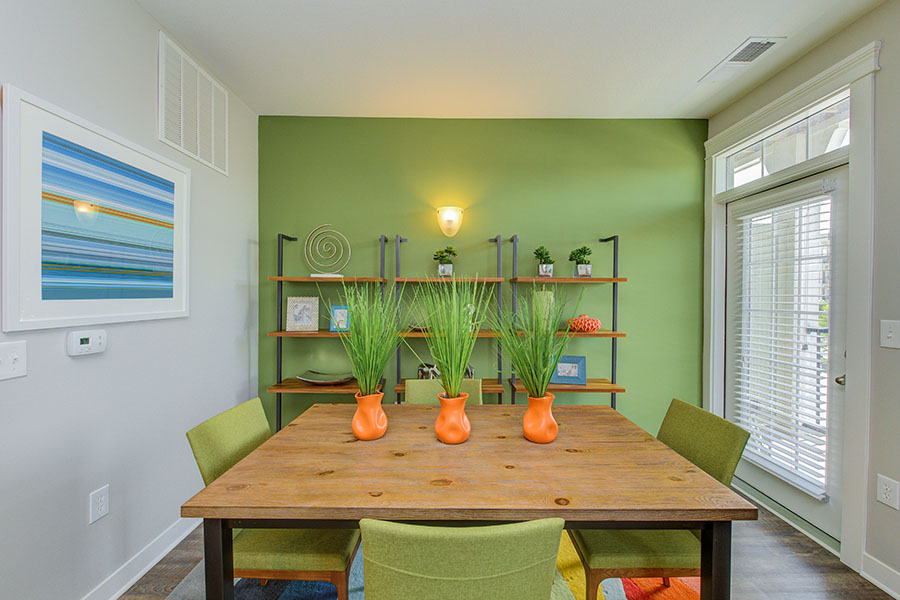 Your Indianapolis apartment dining room doesn't need to be boring. There's no guideline that says your apartment dining room in Indianapolis must be mundane. In fact, inject some pizzazz and let it reflect your own taste. You can accomplish this by fabricating your own centerpiece or incorporating eye-catching wall art or a free-standing piece. If you would rather have something a little more restrained, you could simply choose appealing vases, plates, and placemats. Chairs are another opportunity to demonstrate your inclination for design by using cushions in your preference of colors and patterns.
Here are a couple of other recommendations on designing your dining room:
Make sure that it blends in with other rooms, such as your kitchen or adjoining family room. This is specifically significant for open-concept floor plans. If your kitchen features cabinetry of a specific stain color, it's a smart decision to emulate that in the hue of your dining table and other furnishings.
If you have an open-concept layout, you can distinguish the space by using an area rug. This will provide a distinctive design element while reducing noise when chairs are moved.
Utilize Appropriate Furniture In Your Indianapolis Apartment Dining Room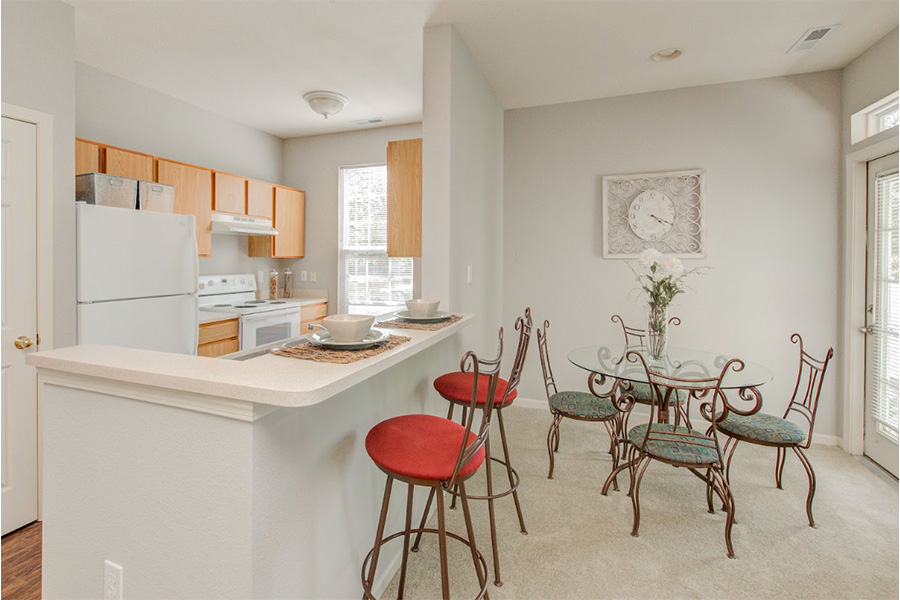 No matter if your apartment dining room is big or compact, it's essential to select tables and other items that are suitable for the space you have available. Armchairs and oversized hutches will make the room appear constricted. Alternatively, furnishings like rounded or oval tables are space smart. They're less obstructive, and you can fit an additional chair when needed. If you have a rectangular table, benches you can set next to a wall is a smart alternative. You could even consider a corner bench when space is scarce.
You might consider these other ideas for making the most of your space:
Adaptable items like drop-leaf or extendable tables are a wise idea. You could also use a buffet or sideboard for extra storage.
A sizeable mirror can make the room feel more substantial by reflecting light.
In addition, don't forget about comfort when selecting your tables and chairs. When you're a few hours into that spirited board game, you'll be thankful your seats have cushions.
Customize Your New Apartment Dining Room At The Waverley Apartments
Put those new apartment dining room ideas to useGet started with your new apartment dining room ideasNow that you are equipped with some great apartment dining room ideas, put them in action at The Waverley Apartments! Our distinctive apartments in Indianapolis are available in various floor plans to match your distinctive preferences. You'll also enjoy access to a wonderful array of amenities to enhance your lifestyle. Schedule a tour to glimpse what we have to offer, or just give us a call at 317-800-7017.